Presentations & Exhibits Schedule
Presentations & Exhibits Schedule
Throughout the year, Wilson Language Training® exhibits at various professional conferences and trade shows geared toward educators and parents.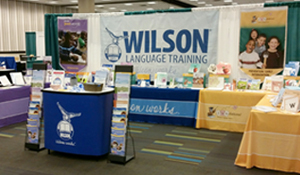 We welcome the occasion to talk with those who are interested in our programs, professional learning, and guidance. These events provide a great opportunity to see Wilson's materials in-person and ask questions of our expert staff. And even if you are already using Wilson, please swing by our booth – we always love to hear how things are going!
Barbara Wilson, Literacy Team members, Wilson® Credentialed Trainers, or other Wilson staff periodically may be invited to speak at a conference in order to share their expertise. Check below to see if a Wilson representative is scheduled to present; the event's brochure or agenda may have additional details.
indicates that a Wilson representative will be presenting at the event.
National Institute on Legal Issues of Educating Individuals with Disabilities