Fundations Conference
The Fundations® Conference is designed for educators who have experience using Fundations and want to deepen their early literacy knowledge.
Examine foundational reading skills, including research-based insights and implications for instructional needs, with Barbara Wilson and other leaders in the field.
Discover ways to enrich your Fundations practice, strategies to help struggling readers, and implementation tips during engaging sessions.
Enjoy networking and sharing experiences with other Fundations enthusiasts from across the country.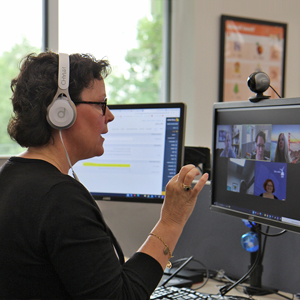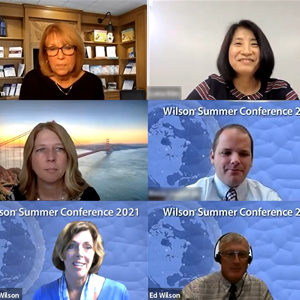 After our successful inaugural event in 2021, we're excited to hold the next Fundations Conference in July 2022 using a hybrid format (see below for details). This conference allows Fundations teachers to have a shared experience of their own to explore early literacy topics and Fundations best practices so that they can enhance their classroom instruction skills.
View our video highlighting the Wilson® Summer Conferences, held virtually in 2021, to get a taste of this exciting event!
Save the Date for Summer 2022!
WHEN: During the week of July 18-21, 2022
(Specific dates for the Fundations Conference will be provided as soon as they are available.)
WHERE: Seaport Hotel in Boston, MA, or online from anywhere
WHO: Fundations® Presenters, Fundations® Certified Facilitators, and teachers with experience using Fundations
About the Venue
The Seaport Hotel & World Trade Center provides welcoming service in Boston with all the amenities to make you feel at home. Located on the waterfront in the bustling Seaport District, it offers you stylish, luxury accommodations with dazzling city and harbor views, plus is incredibly convenient with access to all major points of interest. The Seaport's caring extends to its environmental program, earning it recognition as one of the greenest hotels in North America.
"This was AMAZING from start to finish. Your speakers were stellar and experts in the field. … So much good information to help me plan PD for my teachers and help them intentionally plan to support our kiddos in Fundations!"
– Kara Canning, Missouri
"This conference was by far one of the greatest I have attended! Rich in content, rich in expanding my knowledge, rich in speaker impact. I am motivated to start the year with a different perspective while using Fundations!"
– Nancy Richardson, Arizona
"[The Fundations Conference] was absolutely top-notch! If I didn't know this was your first virtual conference, I would have thought you had been implementing them in this format for years! The speakers were spot on with evidence-based practices and practical implications that honored our current teaching environment."
– David Fronczak, New York