Virtual Implementation Support
Virtual Implementation Support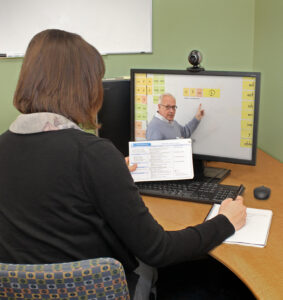 Introductory workshops for Fundations® and Just Words® provide participants with the programs' underpinnings and prepare educators with the content, organization, and instructional principles of each daily lesson.
To support educators after their introductory workshop and during their first year of instruction, Wilson offers additional professional learning through the Virtual Implementation Support program. This level-specific online community of practice allows for the time and space needed to deepen skills, learn practical tips, and connect with peers across the country.
The Program Includes:
Interactive Learning Sessions: 
Conveniently timed

live 45-minute sessions scheduled at critical instructional junctures throughout the school year
Work with an Instructional Development Specialist to strengthen your understanding of instructional procedures and language concepts
Practical tips and opportunities for Q & A
Just-in-Time Resources: 
Access to timely, curated online resources
Online Discussion Board:
Collaborate with the cohort leader and teachers from across the country to celebrate successes and brainstorm solutions to instructional challenges 
Registration for 2021-2022 School Year 
Registration for individual enrollment in Virtual Implementation Support has closed for the 2021-2022 school year. Please follow the links below if you wish to be added to the interest list for the 2022-2023 offerings.
For assistance or questions, please contact our Customer Support team.