WRS Advanced Word Study: Online Course (Steps 7-12)
WRS Advanced Word Study: Online Course (Steps 7-12)
This online course provides instruction in advanced concepts of decoding and spelling to effectively use multisensory techniques to teach more complicated rules of the English language. The Advanced Word Study course is aligned with the skill-building sequence of Wilson Reading System® (WRS) Steps 7-12, including spelling option procedures, additional suffixes, contractions, and introduction to the following syllable types: r-controlled, vowel digraph/diphthong.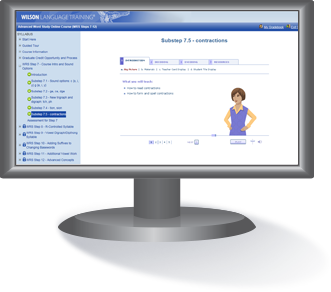 Learn more about:
---
Registration Process
Interested in registering? The Advanced Word Study Online Course (Steps 7-12) is currently being revised to reflect 4th Edition instruction. Course enrollment is still available during this update. 
Individuals interested in this professional learning offering can register online. We recommend that you review the course information below and contact us if you have any questions.
Schools and districts interested in exploring the option of including WRS Level II Certification for their teachers as part of a COMPASS Plan are encouraged to contact us to start the discussion.
Prerequisites
Bachelor's degree in education or a related field
Duration
60 hours of online coursework
Must be completed within 15 months
Requirements
Complete all online course modules, including videos, activities, and assigned required reading.
Complete each of the six assessments (Step 7, Step 8, Step 9, Step 10, Step 11, and Step 12) with a grade of 80% or higher.
Respond to at least 6 threaded discussion topics, if registering for college credit. 
Upon Completion
Participants will understand course methodology and demonstrate understanding of advanced language structure when instructing individual students using the Wilson Reading System in Steps 7-12.
Graduate Credit
Three graduate credits (optional) are available through Fitchburg State University, Fitchburg, MA, upon completion of course requirements. Please see Process for Graduate Credit for details.