Notice: Undefined variable: output in /data/62/3/136/6/3951006/user/4388106/htdocs/wordpress1/wp-content/themes/wilson-corpsite/functions.php on line 418

WRS Group Mastery Practicum
WRS Group Mastery Practicum
This Wilson Reading System® (WRS) practicum requires successful delivery of a minimum of 50 lessons to an approved group of three to six students. All students in the group must reach Substep 3.1 or higher, and at least three videoed lessons must be submitted for review and feedback.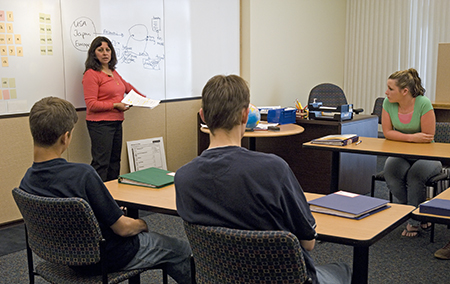 Learn more about:
---
Registration Process
Individuals interested in registering for this professional learning offering, should print and submit a completed Registration Form to Wilson Customer Support. We recommend that you review the course information below and contact us if you have any questions.
Schools and districts interested in exploring the option of including Wilson Reading System® Level II Certification for their teachers as part of a COMPASS Plan, are encouraged to contact us to start the discussion.
Prerequisites
WRS Level I Certification
Bachelor's degree in education or a related field
Current enrollment in or completion of WRS Advanced Strategies for Multisensory Structured Language (MSL) Group Instruction Workshop within the past 3 years
Duration
Must be completed within 15 months from start date
At least 50 practicum lessons
Requirements
Submit a pretesting report on each practicum student, including educational history and current test results.
Conduct a minimum of 50 lessons to a small group of students in accordance with the WRS Group Mastery Practicum Study Guide.
Provide documentation of written lesson plans.
Submit a minimum of three videoed lessons for observational review and feedback.
Develop teacher and student notebooks and compile students' written work in accordance with WLT program standards.
Develop and maintain a Class Progress Monitoring Graph.
Demonstrate mastery of lesson plan procedures with an emphasis on both accuracy and fluency (documented and approved by Wilson Trainer) delivered in a group setting.
Demonstrate understanding of language concepts through accurate teaching with multisensory procedures to a group of students.
Demonstrate student success and mastery of decoding, encoding, and comprehension skills for a group of students.
Conduct posttesting and submit the Group Mastery Practicum Students Final Report and related documents after a minimum of 50 lessons and achievement of WRS Step 3.1.
Practicum Student Selection Criteria
Select a group of 3-6 students for the WRS Group Mastery Practicum. Each student must be pretested using the WADE and an approved, norm-referenced test. The Practicum Student Pretesting Form must be submitted to a Wilson Trainer for review and approval. Once the Trainer approves the group, practicum lessons may begin.
Students must:
Have significant decoding difficulty.
Be of similar age, grade, and cognitive ability.
Be able to begin instruction at the same substep as determined by WADE mastery scores. (This applies to students who have had previous WRS instruction.)
Be grouped according to word attack scores if new to the program (0-15%, 16-30%).
Be available to receive at least five 45-minute, four 60-minute, or three 90-minute lessons per week. (Five 75-90-minute lessons per week is optimal.)
Be free of major behavioral problems and/or severe language-based difficulties that may affect the group's progression or achievement.
Materials
Required
WRS Starter Set
WRS Student Readers Steps 1-6 (one set per student)
WRS Magnetic Journal with Phoneme Tiles (one per student)
Recommended
WRS Word Cards (Steps 1-3 AB) and/or WRS Word Cards (Steps 4-6 AB)
Suffix and Syllable Frames
Stories for Older Students (Steps 1-3 B) and/or Stories for Older Students (Steps 4-6 B), if working with older students
WRS Student Workbooks (Steps 1-6 A) or WRS Student Workbooks (Steps 1-6 B) (one set per student)
Blank Index Cards
Electronic Spell Checkers
Pocket chart for Sound Cards and Syllable Frames (or magnetic tape for Sound Cards if using magnetic board)
To order materials, visit our online store or view our catalog.
Upon Completion
Individuals who successfully meet all requirements of this practicum are able to:
Identify the characteristics of dyslexia and related language-based learning disabilities.
Use assessments to identify students with word-level deficits who are appropriate for an intensive intervention in a small, homogeneous group setting.
Diagnostically plan and deliver group lessons, while addressing and understanding individual student weaknesses that impact the ability to learn to read and write.
Plan and conduct group lessons that address the individual needs within the group, and foster a positive instructional climate with clearly established rules and routines.
Guide students to correct errors through questioning and use of their notebooks.
Appropriately pace a group of students through the curriculum, developing mastery of material taught, designing group lessons that focus on accuracy, automaticity, and fluency of word and text reading.
Effectively utilize multisensory structured language (MSL) instructional techniques, and demonstrate explicit teaching, modeling, guided practice, appropriate feedback, and consistent review in lessons in the group setting.
Deepen skills developed in the Level I Certification.
Participants who have successfully completed this course are specialized in implementing WRS in a group setting, but are not considered WRS Level II Certified unless they have completed all advanced courses.
Graduate Credit
Three graduate credits (optional) are available through Fitchburg State University, Fitchburg, MA, upon completion of course requirements. Please see Process for Graduate Credit for details.