Geodes® Level 1 Classroom Library
Geodes® Level 1 Classroom Library
Geodes® Level 1 Classroom Library 
Geodes® Level 1  aligns with the scope and sequence of Fundations® Level 1.  The classroom library is organized into four topical modules: A World of Books, Creature Features, Powerful Forces, and Cinderella Stories. 
A World of Books
Students explore the power of books shared across time and culture.                                                                          
Creature Features
Students explore intriguing animal traits and behaviors and are introduced to people who study animals.
Powerful Forces
Students explore how wind affects life on earth and how its energy can be used to generate power.
Cinderella Stories
Students explore countries and cultures through the lens of an enduring tale.                                    
The Geodes® Level 1 Classroom Library includes:
64 unique books containing both informational and literary text. These titles are
divided into four topical modules with 16 titles in each module.
Six copies of each title, resulting in 384 total books.

My Geodes®, a grayscale book that is a compilation of the four titles that
comprise a set. There are 20 copies of each My Geodes® (total of 320) to allow
students to have a copy for practice in school or at home.

Inside Geodes®, a teacher resource that includes a comprehensive introduction
to the module design and components and provides recommendations for
implementation.
A geode rock with a stand to highlight that this library set is called Geodes®
because the books belie the rich and complex knowledge they contain.
Geodes® Level 1 Classroom Library Consists of 4 Modules
Each module contains: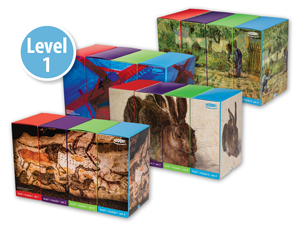 • 16 unique titles divided into 4 sets
• 6 copies of each title
• My Geodes® book for each set of books (20 copies each)