Geodes® Level 2 Classroom Library
Geodes® Level 2 Classroom Library
Geodes® Level 2 Classroom Library 
Geodes® Level 2 aligns with the scope and sequence of Fundations® Level 2.  The classroom library is organized into four topical modules: A Season of Change, The American West, Civil Rights Heroes, and Good Eating. 
A Season of Change
Students explore the four seasons throughout the world.                                                                          
The American West
Students explore the American West region and learn about westward expansion.      
Civil Right Heroes
Students learn about civil rights heroes and examine their impact on equality and justice in the United States.
Good Eating
Students explore where food comes from and how food fuels our bodies and communities.       
The Geodes® Level 2 Classroom Library includes:
64 unique books containing both informational and literary text. These titles are
divided into four topical modules with 16 titles in each module.
Six copies of each title, resulting in 384 total books.

My Geodes®, a grayscale book that is a compilation of the four titles that
comprise a set. There are 20 copies of each My Geodes® (total of 320) to allow
students to have a copy for practice in school or at home.

Inside Geodes®, a teacher resource that includes a comprehensive introduction
to the module design and components and provides recommendations for
implementation.
A geode rock with a stand to highlight that this library set is called Geodes®
because the books belie the rich and complex knowledge they contain.
Geodes® Level 2 Classroom Library Consists of 4 Modules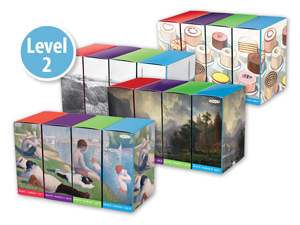 Each module contains:
      • 16 unique titles divided into 4 sets
      • 6 copies of each title
      • My Geodes® book for each set of books (20 copies each)