Geodes® Level K Classroom Library
Geodes® Level K Classroom Library
Geodes® Level K Classroom Library 
Geodes® Level K aligns with the scope and sequence of Fundations® Level K. Children build on an early understanding of story structure to graduate from wordless picture books and sound search books to duet books, where students practice decoding words, phrases, and simple sentences. From the very first book, students begin to build knowledge.  The classroom library is organized into four topical modules: The Five Senses; Once Upon a Farm; America, Then and Now; and The Continents.
The Five Senses
Students explore sensory experiences in South America and in museums around the world.                            
Once Upon a Farm
Students explore farm life across the United States.                                                                                          
America, Then and Now
Students explore changes over time in American life and culture.                                 
The Continents
Students explore the world through art, geography, animals, landmarks, and traditions.                     
This level of Geodes includes four modules comprising eight or sixteen books per module. In each module, books are grouped into text sets. The content of each set focuses on a smaller strand of the larger module topic.
Modules 1 and 2 feature four story-focused Wordless Picture Books and twelve letter-sound based Sound Search Books. Wordless Picture Books boost students' knowledge of story structure and vocabulary, while Sound Search Books grow students' letter-sound awareness.
Modules 3 and 4 feature 32 Duet Books. Each contains child- and adult-read text. The child-read text is at least 90 percent decodable as aligned with the scope and sequence of Fundations® Units. With the support of an adult, students practice taught phonetic elements and Fundations® Trick Words in connected text to build decoding and word recognition skills, while also building knowledge.
The Geodes® Level K Classroom Library includes:
48 unique titles contain both informational and literary text with multiple copies of each title for a total of 384 original color books. These titles are divided into four topical modules.
My Geodes®, a grayscale book that is a compilation of the titles that comprise a set. There are 20 copies of each My Geodes® (320 total) to allow each child to have one for extra practice in school or at home.
Inside Geodes®, a teacher resource that includes a comprehensive introduction to the module design and components and provides recommendations for implementation.
A unique geode rock with a stand to highlight that this library set is called Geodes® because the books belie the rich and complex knowledge they contain.
The Geodes® Level K Classroom Library Consists of 4 Modules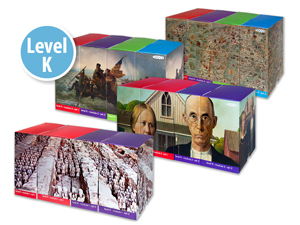 Modules 1 and 2:
Each module contains 8 unique titles (2 Wordless Picture Books and 6 Sound Search Books) divided into 2 sets
12 full-color copies of each title (x8 titles = 96 books per module)
My Geodes® book for each set of titles (20 copies of each of the 4 compilations = 80 books per module)
Modules 3 and 4:
Each module contains 16 unique titles (all Duet Books) divided into 4 sets
6 full-color copies of each title (x16 titles = 96 books per module)
My Geodes® book for each set of titles (20 copies each of the 4 compilations = 80 books per module)