Notice: Undefined variable: output in /data/62/3/136/6/3951006/user/4388106/htdocs/wordpress1/wp-content/themes/wilson-corpsite/functions.php on line 418

Teacher Support
Teacher Support
To ensure that teachers are prepared to effectively use the Wilson Reading System® (WRS) within their schools' Multi-tiered System of Supports (MTSS), Wilson provides comprehensive professional learning opportunities.
The WRS Introductory Workshop, WRS Level I Certification, and WRS Level II Certification programs are available and strongly recommended as they provide teachers with the necessary background and skills to teach WRS in a manner that maximizes students' success in the program.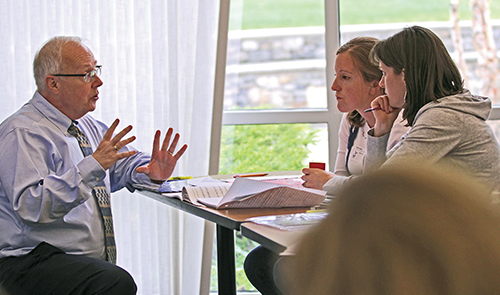 WRS teachers also have online access to robust course content, additional resources (such as animated demonstrations, printable teaching aids, and weekly paired decodable/enriched text passages), and a discussion board and chat feature via the Intensive Learning Community of Wilson Academy®.
To help districts move toward sustainability, the WRS Trainer Development Program is recommended.  By developing WRS Trainers, a district ensures that all WRS teachers maintain the fidelity of implementation that results in student success.