WRS 4th Edition Institute
WRS 4th Edition Institute
To accommodate the professional learning needs of our Wilson Certified Teachers, we are offering the Wilson Reading System® (WRS) 4th Edition Institute to provide an in-depth, hands-on professional learning opportunity focused on Steps 1-6 of the new edition. 
WRS 4th Edition Institute session topics include: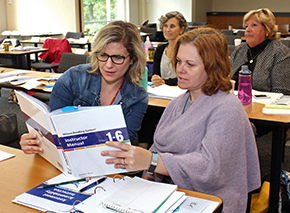 An Overview of the Wilson Reading System® 4th Edition
A Systematic & Integrated Approach to Teaching Phonology, Morphology, and Orthography
The Study of Word Elements
Fourth Edition Materials Tour
WRS Instructor Manual and Lesson Plan Practice
Vocabulary and Wilson Words in the 4th Edition
Assessment, Accountability, and Instruction
End-of-Step Assessment Lesson Practice
Current Offerings for Individual Teachers
WRS 4th Edition Institutes will only be offered for a limited time. Currently scheduled institutes are listed below.
Public workshops conducted by Wilson Language Training have been suspended for the summer, although you may find workshops hosted by Wilson® Accredited Partners listed in a location near you. Wilson plans to restart our Oxford, MA, workshops this fall, so please check back periodically for updates.
View institute details and registration information by clicking the "More Info" button next to the event of interest.
Interested in a location that is full? Please click its "More Info" button, then select "Add to Waitlist" to be notified if a spot becomes available.
Upcoming Workshops/Courses

WRS 4th Edition Institute