Implementation
Fundations® provides the research-validated strategies that complement installed core programs to meet rigorous college- and career-ready standards and serve the needs of all children in grades K-3.
Within a Multi-tiered System of Supports (MTSS) or RTI framework, Fundations serves as both a (Tier 1) prevention and an early intervention program (Tier 2), providing children of varying learning abilities with a foundation for reading, spelling, and handwriting.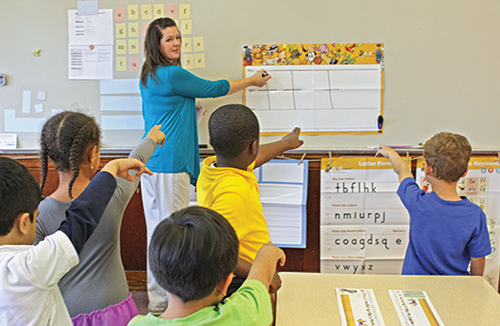 In a Tier 1 setting,  Fundations® is universally designed to serve all K-3 students in the regular education classroom. The standard lesson plan is accessible to all students because the concepts are taught and practiced in ways that integrate multiple learning modalities.
In a Tier 2 setting, the program is delivered to at-risk, K-3 students in need of strategic and targeted intervention.